Custom Roll Forming Engineering, Design & Quality
International Rollforms custom roll forming capabilities combine expert knowledge with sound design solutions. International Rollforms Inc. has an in-house tooling facility and experienced roll forming personnel to develop cost effective designs for a new or existing part that may eliminate costly secondary operations.
International Rollforms provides custom roll forming that adheres to strict quality systems and standards to ensure quality parts that meet your precise tolerances. Our modern equipment coupled with our extensive roll forming knowledge yields a quality product that won't be comprised.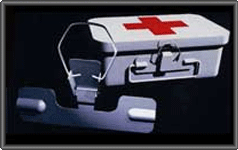 In Die Assembly
Innovative progressive tool design feeds two raw material strips into one die, which automatically stamps out and assembles the mating parts. One stroke of the press produces one assembled rollformed latch.
High Production Equipment and Tooling Design
High volume item runs on our most productive line. Sophisticated pre-punch die, together with our high-speed programmable servo feeder, produces a family of 5 parts (different punching patterns) without any die changeover. Line down time is virtually eliminated, due to the use of raw material accumulator and coil end joining technology.
International Rollforms can fill all of your custom roll forming and roll formed part(s) requirements.
International Rollforms Incorporated
P. O. Box 5426 • Deptford, NJ 08096
Phone: 856.228.7100 • Fax: 856.228.3126
Toll Free: 1.800.221.8655
Rollforming and Roll formed Manufacturing facilities in New Jersey and Utah