Solar System International Rollforms- RollForming Plant, Deptford NJ
International Rollforms has installed a state of the art solar energy system at it's 65,000 Rollforming/Roll forming plant in Deptford NJ.
International Rollforms' new solar energy system, covers over 45,000 square feet of the rollforming plant, is one of the largest solar panels installed in South Jersey, significantly supporting the trend in that area on the sustainability of local businesses.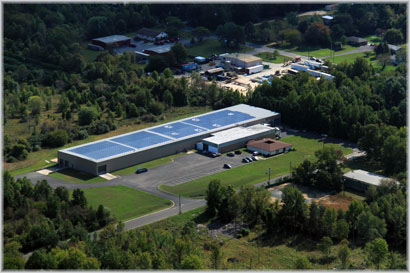 Solar Panels for Rollforming Plant expected to Provide 428 MW Hours per Year
This installation is a 383 kilowatt (kW) rooftop solar energy system consisting of 1,256 SunPower 305 panels designed to provide high efficiency and performance. The system utilizes two SatCon inverters and is expected to provide 438 MW hours per year. International Rollforms leveraged stimulus money to create a competitive advantage for the Rollforming Company while supporting the new green economy.
Rollforming, a NJ Family Business for 40 Years
James Vosbikian of International Rollforms said, "Having been a family-run business serving customers for over 40 years, we have continually strive to build long-term relationships in the industry. Given the continued demand for our specialized products, we realized that in order to meet this level of demand, we needed to increase efficiencies at our New Jersey manufacturing plant. We strongly believe that the move to solar energy and the size of the system we have installed ensures that we will be serving customers for another 40 years."
Rollforming/Roll Forming: About International Rollforms Inc.
International Rollforms Incorporated specializes in cost effective solutions within the custom roll forming industry. With over 40 years experience in the art of Rollforming, International Rollforms Inc. has the ability to provide a wide variety of roll formed shapes with special attention to demanding tolerances. Expertise in the roll forming process, coupled with our state-of-the-art Rollforming equipment, assures that we only produces effective results. Innovative roll forming at International Rollforms and stamping techniques streamline production and reduce costs while increasing quality.
International Rollforms Incorporated
P.O. Box 5426 • Deptford, NJ 08096
Phone: 856.228.7100 • Fax: 856.228.3126
Toll Free: 1.800.221.8655
Roll Forming Manufacturing locations in New Jersey and Utah