Rollform/Roll Form In-Line Operations
International Rollforms can roll form your components in-line eliminating costly secondary work. Employing programmable servo-feeders and die accelerators, costly secondary punching and rollforming operations can be eliminated as they are achieved in-line, while holding tight tolerances.
Numerous other processes can be performed while we roll form your components to deliver the best price to you.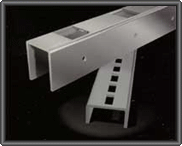 In-Line Post Punching
When the accuracy required is too stringent for pre-punching, our in-line post punching techniques provide high-speed production of punched roll formed sections without the added expense of costly secondary operations.
Mine Roof Support
Open seam tube, rollformed from high-strength steel with in-line identification stamping for tracking of material origin. Automatic assembly and MIG welding of tube and ring produces a high volume safety related mine roof support.
Let International Rollforms show you how we can roll form your component in-line.
International Rollforms Incorporated
P.O. Box 5426 • Deptford, NJ 08096
Phone: 856.228.7100 • Fax: 856.228.3126
Toll Free: 1.800.221.8655
Rollforming Manufacturing locations in New Jersey and Utah